8 Day Rock to Roo's - Alice Springs to Adelaide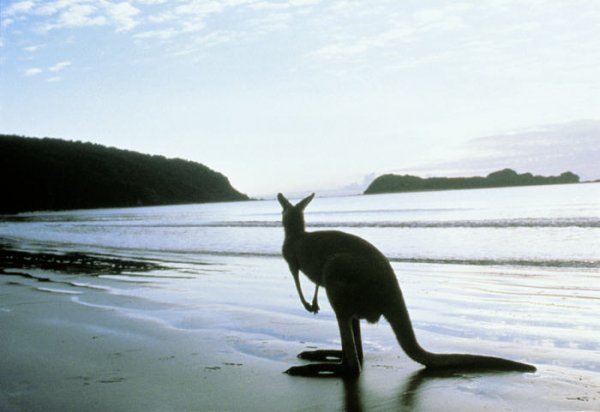 Duration: 187 Hours (approx.)
Location: Alice Springs, Northern Territory
Product code: 8 Day Rock to Roo's
Day 1: Kings Canyon (L, D)
You will be picked up from your accommodation at 5:30am, first destination Kings Canyon. Enjoy a 3 hour hike through the sandstone domes of the Lost City. Visit the Amphitheatre, North & South Walls and the beautiful Garden of Eden. Next stop, Curtin Springs where we set up our bush camp. Your guide will prepare a healthy camp-oven dinner. Relax around the fire then curl up in your cozy swag under a million stars.

Day 2: Kata Tjuta & Uluru Sunset (B, L, D)
Feel the spiritual significance of the Valley of the Winds at Kata Tjuta. See lots of bush tucker along the hike before heading to the Aboriginal Cultural Centre where you can listen to tales from the Dreamtime. We spend the evening enjoying dinner at the spectacular Sunset over Uluru. Witness the awesome sight of Uluru changing colour. We spend this night at the Yulara resort campground.

Day 3: Uluru Sunrise (B,L)
Take in a memorable Uluru Sunrise over the World's Largest Rock. You then have time to complete an Uluru Base Walk around Uluru. You will see beautiful sites such as the Mala Walk, Mutijulu Waterhole and Aboriginal Cave Paintings. We stop on the way home for lunch at Erldunda. You will arrive back in Alice Springs at approximately 5:30pm and stay 1 night at the YHA Alice Springs (Dorm Room). Back to civilization, get cleaned up and we meet later for dinner and a couple of beers in an The Rock Bar.

Day 4: Greyhound Bus Departs Daily from the Alice Springs Bus Stop (Next Door to the Rock Tour Office) at 10:30am and arrives into Coober Pedy at 7:00pm. Enjoy one night in the Underground Hostel in Coober Pedy (dorm room)
Day 5: Underground and City Mining Tour Enjoy a half day tour of the Opal Mines and the Town Centre which departs at 1pm for 4 hours, you will get to visit the following: Underground Opal Display, Historic Town Sites, Underground Church, Desert Golf Course, Underground Pottery, Opal Fields Fossicking for Opal, Crocodile Harry's Home/Museum, Mine Tour , The Beautiful Breakaways, The Moon Plain and The Dingo Fence. The Greyhound Bus Departs Daily from Coober Pedy at 7:30pm and is an overnight bus trip.
Day 6: Arrive in Adelaide at 7.00am at the Greyhound bus station. Free day to explore Adelaide and then stay 1 night at the Adelaide Hostel in a dorm room

Day 7: Kangaroo Island day 1 (L,D) Depart Adelaide and enjoy a scenic coach trip through the Fleurieu Peninsula to Cape Jervis where you will board the Sea Link ferry for the 45-minute journey across Backstairs Passage to Kangaroo Island. On arrival in Penneshaw meet your local Driver/Guide.
First stop is Rob's Shearing & Sheep Dogs to enjoy a sheep shearing demonstration by a real Aussie character before heading to Pennington Bay, a spectacular beach and a great photo opportunity. Continue to Emu Ridge Eucalyptus Distillery, the only commercial eucalyptus distillery in South Australia and visit stunning Seal Bay where you will have the opportunity to get up close to a wild breeding colony of rare Australian sea lions. At Little Sahara explore the huge white sand dunes and test your skills at sandboarding.
Arrive at Vivonne Bay Lodge, where you will have the opportunity to spend some free time kayaking on the Harriet River, swimming at Vivonne Bay Beach, take a self-guided walk through the property tracks, go trail bike riding or simply relax. Back at camp there are complementary activities to keep you occupied before and after your BBQ dinner. As darkness sets, see Kangaroos, Tamar Wallabies and Possums, relax around the fire (except in summer months) or kick back on the deck with a glass of local wine before retiring to the comfort of your bed (stay in dorm accommodation).
Day 8: Kangaroo Island day 2 to Adelaide (BL) After breakfast get up close to more wildlife at Hanson Bay Wildlife Sanctuary where you will look for koalas nestled up in the eucalypts and see kangaroos grazing on the open fields. Continue onto Flinders Chase National Park where you will marvel at Remarkable Rocks; huge granite boulders sculptured by nature. Enjoy the spectacular coast and seascapes as you head around to Admirals Arch at Cape Du Couedic where we watch the resident Long-nosed Fur Seals frolic in the ocean or sunbake on the rocks. Enjoy a delicious BBQ lunch at the Flinders Chase Visitor Centre.
Head to the beautiful and secluded 'secret' beach of Stokes Bay and take a walk at Ironstone Hill (time permitting) to find wallabies and admire the spectacular view back to the mainland. If time and weather permit, several stops may be made en route to Penneshaw, allowing time to purchase dinner (own expense) before the return journey to Adelaide.
Departure Information:
3 days / 2 nights The Rock Tour - Departs Alice Springs daily at 5:30am

Greyhound Bus - Departs Daily from Alice Springs at 10:30am and arrives in Coober Pedy at 7:00pm
1 Half Day Tour of underground mining city Coober Pedy - Departs Daily at 1:00PM and Returns 5:00pm
Greyhound Bus - Departs Daily from Coober Pedy at 7:30pm and arrives in Adelaide at 7:30am next day

Kangaroo Island - (Dec - March - Departs Daily) (April - Nov - Monday, Wednesday, Thursday & Saturday only) (May - August - Wednesday & Saturday only)
We supply: All meals as stated, transport, air conditioned comfortable 21 seat buses, fun and experienced tour guide, swags and camping equipment.
Extra Information: Uluru Park Fee is $25 for Adults and $12.50 for Children under 16 years old. We have summer sleeping bags (November - April) and winter sleeping bags (May - October) warm and cosy -10 degree rated. You can hire a Sleeping bag for $20 per person.
Terms: Please phone The Rock Tour 1800 246 345 when you arrive in Alice Springs to confirm your pick up location and time. When you arrive into Alice Springs, please call into The Rock Tour Travel Shop - 78 Todd Street in the main street to confirm your tour booking and get 30 minutes FREE Internet.
The Rock Tour Cancellation Fee:
The Rock Tour reserves the right to amend itineraries, change carriers & apply surcharges without notice. It is strongly recommended that you have your own personal travel insurance. Cancellation fees are charged at 100% if within 24 hours from departure, 50% if between 24 – 48 hrs and 25% at other times. We accept no responsibility for any injury, illness or other such accident sustained while on tour. We accept no liability for lost or stolen property. There will be no refunds in case of mechanical breakdown or weather conditions and we cannot guarantee pick up & drop off times. Customers need to be aware that we operate in extreme temperature and remote areas and act according to instructions from our tour guides.
Third Party Cancellation fees differ from that of The Rock Tours. Please contact chosen company for more details regarding their cancellation fees.
Kangaroo Island Tour Cancellation Fee:
This tour is run by KANGAROO ISLAND ADVENTURE TOURS owned by SEALINK.
Please note that on the rare occasion that weather or other natural disasters affect the ferries or flights to Kangaroo Island, SeaLink reserves the right to cancel tours and offer alternative tour dates. As part of the enjoyment of this tour is the active hands on participation of everyone. This will include the preparation of meals, washing dishes and general assistance to the guide.
Please Note: This tour is not suitable for children under the age of 12. Children 12-14 years are NOT permitted in Dorm Rooms & must be booked into a Private Room with an accompanied adult. Children 15-17 years can stay in a Dorm but must be accompanied by someone 18+.