9 Day Package *Melbourne to Ayers Rock (Uluru) plus continue to Darwin*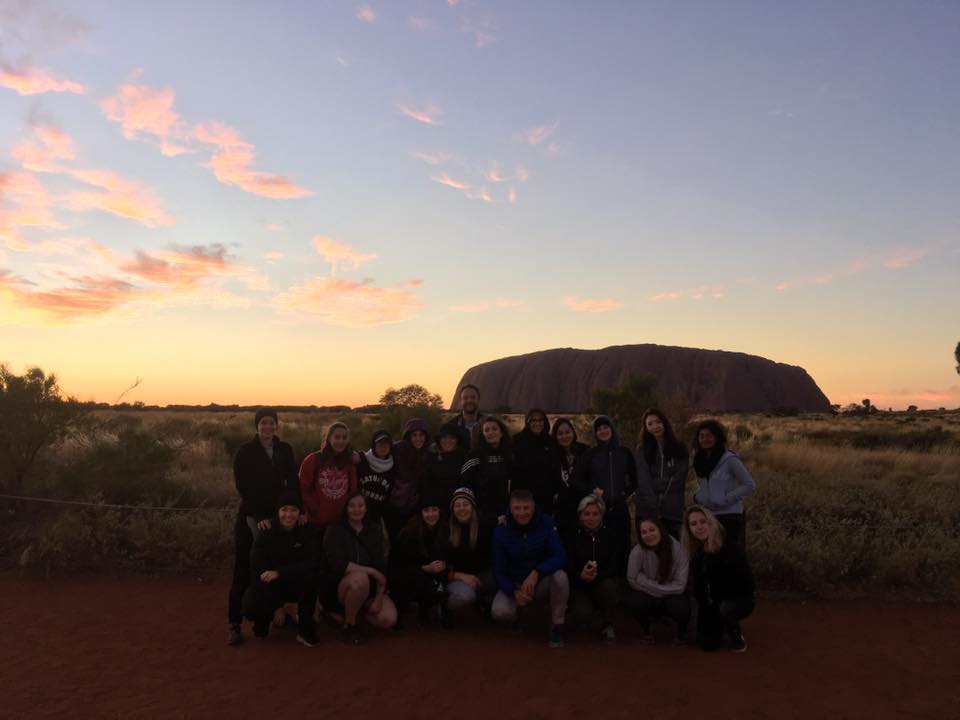 天數: 202 小時 (左右)
产品编号: 9-TRT-WEB-MEL-DWN-P
"9 Day Melbourne to Adelaide and then continue to Alice Springs (including Uluru) plus continue to Darwin - (Monday / Thursday / Saturday only)

Day 1: Great Ocean Road day tour (L)
(2 Day Trip run by Wildlife Tours, Melbourne)
You will be picked up from your Melbourne accommodation at 7am and head to the Great Ocean Road, you will visit the following awesome sights:
Surf Beach: Watch surfers at an iconic Aussie Beach
Beach Walk: Get some sand between your toes
Historic Memorial Arch: Great photo opportunity
Seaside Towns: Feel the vibe of small coastal towns
Kennett River: Spot wild Koalas, Kookaburras, Parrots and Lorikeets
Lunch: Enjoy a tasty lunch in Apollo Bay
Rainforest: Guided bushwalk in the ancient Otway's Rainforest
Twelve Apostles: View the magnificent 12 Apostles
Loch Ard Gorge: Be surrounded by the towering limestone cliffs
London Bridge: Visit the collapsed but still amazing London Bridge
Kangaroos: Night-time Kangaroo spotting in Halls Gap

Overnight in the Grampians: you will stay 1 night in a dorm room
Day 2 - The Grampians National Park (B)
Tour the Grampians National Park: Home to the Kangaroos, Wallabies, Koalas, Emus, Birds, Echidnas and many other Australian creatures as well as an abundant array of plant life. 'A Wildlife, Waterfall, Walking Wonderland'! Get up early and have a look around your hostel. There will be kangaroos grazing everywhere, noisy corellas flying above your head, you might even get lucky and spot mysterious wallaby.
Mountain Hike: Walk an Aussie bush track to experience spectacular views.
Halls Gap: Visit the heart of the Grampians!
Reed's Lookout or Lake Bellfield: Take a stroll along the lake's shore and breathe in fresh mountain air. This ever popular walking and picnicking spot is just a short drive from Hall's Gap.
MacKenzie Falls or Silverband Falls: A pleasant walk to see the beautiful McKenzie Falls or the Silverband Falls.
Jaws of Death: Sensational experience
Arrive into Adelaide in the evening and stay 1 night at the YHA Adelaide in a 6 share dorm

Day 3: Adelaide
You will have a Free Day to explore Adelaide at your leisure before you depart on the Greyhound bus. The bus will depart from the Adelaide Bus Station on Franklin Street at 6:00pm
Day 4: Arrive into Alice Springs
You will arrive into Alice Springs at 2:30pm. The Greyhound Bus Station in Alice Springs is directly at the front of The Rock Tour Office. When you arrive in Alice Springs you can enjoy the afternoon checking out the local attractions. Enjoy 1 nights accommodation in the Alice Springs YHA (6 share dorm) which is located a 5 minute walk from the Alice Springs Greyhound Station.
Day 5: Kings Canyon (L, D)
You will be picked up from the Alice Springs YHA at 5:30am, first destination Kings Canyon. Enjoy a 3 hour hike through the sandstone domes of the Lost City. Visit the Amphitheatre, North & South Walls and the Garden of Eden. Next stop, Curtin Springs where we set up our bush camp. Your guide will prepare a healthy camp-oven dinner. Relax around the fire then curl up in your cozy swag under a million stars.
Day 6: Kata Tjuta & Uluru Sunset (B, L, D)
Feel the spiritual significance of the Valley of the Winds at Kata Tjuta. Your Guide will show you some bush tucker along the hike before heading to the Aboriginal Cultural Centre where you can listen to tales from the Dreamtime. You will then go on a guided Mala Walk and spend the evening enjoying dinner at the spectacular Sunset over Uluru. Witness the awesome sight of Uluru changing colour as the sun sets. We spend this night at the Ayers Rock Campground with toilets and showers.
Day 7: Uluru Sunrise (B,L)

Take in a memorable Uluru Sunrise over the World's Largest Rock. You then have time to complete the Uluru Base Walk. Take in the spiritual significance of Kantju Gorge, Mutijulu Waterhole and Aboriginal Cave Paintings. We stop on the way home for an optional Camel Ride. You will arrive back in Alice Springs at approximately 5:00pm. Enjoy 1 nights accommodation in the Alice Springs YHA (6 share dorm). Back to civilisation, get cleaned up and meet your Guide for dinner and a couple of beers at The Rock Bar at 7:00pm (additional cost).
Day 8 & 9 - Greyhound Bus from Alice Springs to Darwin
Depart Alice Springs at 7.15pm on the Greyhound bus and arrive into Darwin at 5.30pm the following day.
We supply: 7 Day Greyhound Bus Pass (Whimit). All meals as stated, transport, air conditioned comfortable 21 seat bus for the 3 day Rock Tour section, fun and experienced tour guide, swags and camping equipment.

Extra Information: Uluru Park Fee is $25 for Adults and $12.50 for Children under 16 years old.
We have summer sleeping bags (November - April) and winter sleeping bags (May - October) warm and cosy -10 degree rated. You can hire a Sleeping bag for $20 per person.

Meals - Please note we do not provide meals on the Greyhound Bus service (Day 3 - Day 4 & Day 6 - Day 7). There are regular stops on the Greyhound bus and you can purchase food if needed. Meals are clearly shown above (B = Breakfast, L = Lunch and D = Dinner)
You will need to bring: Travel Voucher, a small bag, sturdy walking shoes, a torch, a hat, sunscreen, 2 water bottles, towel, swimmers, toiletries, camera and sunglasses. Warm clothes for the winter and comfortable light fitting clothes for the summer.